My Thoughts:
What does Christmas mean to the Veggie Tale bunch? This story explores that very thought. A cute story written in rhyme, you will enjoy finding out who knows the real meaning of Christmas. I enjoyed this little book very much and am sure my nephew will enjoy reading it also. A great story with a great message. Don't get lost in the busyness of the season. Always remember the real reason for Christmas. 4.5 stars
I was provided this book from the publisher for review purposes only, no payment was received for this review.
Click for buy site for this book.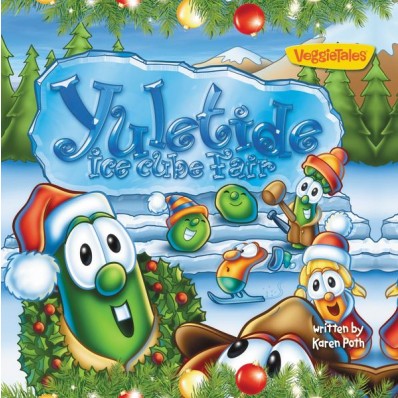 It's that wonderful time of year again---the Yuletide Ice Cube Fair! It's a time of festivity and fun as veggies gather to munch on snow cones, slurp down slushies, and ice skate on the frozen pond. But the greatest part of all is the Ice Cube Carving Contest! The veggies have been busy! They've carved Christmas feasts, trees, angels, and more. Each one is trying to outdo the other in an effort to win the grand prize! But the smallest of all these ice entries is a carving done by Junior Asparagus---a tiny stable with a shepherd on one knee. Kids will discover that it's not what's grand, or bigger, or best that's most important on Christmas---it's Jesus!