My Thoughts:
This is my first book to read from this author and I enjoyed it very much. I did enjoy the book, at first I kept thinking this is like another author's story that I recently read, but as I read on, I saw that Elizabeth had a totally different story. I loved Henry, and wanted to smack Eli. He was not a good friend to Henry, nor Miriam. I enjoyed the realistic view we had of an Amish family, with Elizabeth's family being Amish, she was able to give us a great view of that. My favorite side story in this book, was Kathryn. It really spoke to me that while she was banned, her mother still kept in touch with her. Overall I loved the book, and enjoyed it very much. Most definitely worthy of a five star review!
This book was provided by Howard Books for my honest review. No payment was received for this review.
About the Book: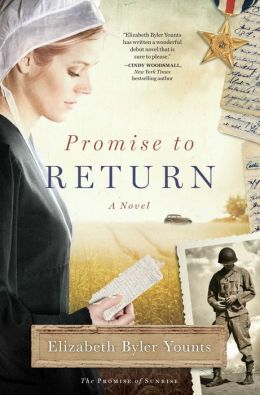 It's 1943 and Miriam Coblentz and Henry Mast are nearing their wedding day when the unthinkable happens—Henry is drafted. However, since he is a part of the pacifist Amish tradition, Henry is sent to a conscientious objector Civilian Public Service camp. When he leaves for the work camp, his gaping absence turns Miriam's life upside down. Little does she know that it's only the beginning…

When Henry returns home, he brings news that shakes Miriam and their Amish community to the core. He tells Miriam he believes God has called him to enlist in the Army and fight for his country, leaving her to make an important decision. She soon must choose between loyalty to the peaceful life she's always known and her love for Henry and her faith in their shared destiny.

Two worlds collide in this unforgettable debut novel, providing a fascinating and rare look into Amish culture during World War II. While Henry is battling enemies across the ocean, Miriam struggles between devotion to Henry and her love of the Amish way of life. One question is at the bottom of it all: will she follow her religion or her heart?
Elizabeth Byler Younts
is a member of the American Christian Fiction Writers. She is an Air Force officer's wife and a homeschooling mom with two young daughters. She makes her home wherever her family is stationed. Elizabeth was Amish as a child and after her parents left the church she still grew up among her Amish family and continues to speak Pennsylvania Dutch.