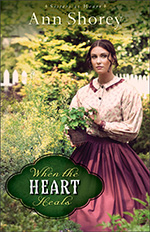 Book Summary:
Courageous and unconventional, Rosemary Saxon served as a nurse during the Civil War, a service that has caused most women in town to regard her as unfeminine and downright vulgar. Although she would like to put her experiences as a nurse behind her, she must support herself. Rosemary takes a position with Dr. Elijah Stewart and a mutual attraction begins to develop.
But when a sophisticated woman arrives in town claiming to be Elijah's fiancée, a heartbroken Rosemary decides to leave Noble Springs and start fresh. Can Elijah convince her of the mystery woman's deception before he loses her forever?
Return to the town of Noble Springs, Missouri, for an engrossing story of love's tentative first steps and fragile future in the face of opposition. Readers will find in Rosemary a sympathetic but strong woman determined to thrive in a world that doesn't always understand.
My Thoughts on this book:
I enjoyed this story greatly. Rosemary is a fixer. She is always trying to fix the problems that present themselves to her, sometimes it gets her into hot water. She is a fiesty young lady, who isn't afraid to express her thoughts and opinions. She is very cautious about giving her heart to Elijah, and is crushed when life seems to hand her a blow, with a young woman showing up who claims she is Elijah's fiancee. This book will not disappoint you, it is filled with a wonderful story after story, of how Rosemary reaches out to people, while having trouble dealing with her own hurts in her past. Ann Shorey, is a great storyteller and you will love this book. Wonderful storytelling, wonderful, descriptive writing. 4 stars!!
This book was provided for review purposes only, no payment was received for this review.
Available February 2013 from your favorite seller of Revell Books, a division of Baker Publishing Group.